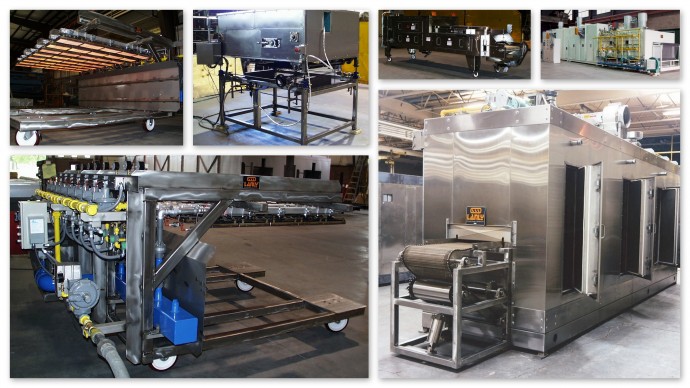 FOOD PROCESSING INDUSTRY
The Lanly Company has specialized in the design and manufacture of custom ovens and dryers for over 70 years. Drawing upon our vast design engineering experience Lanly has successfully tackled several special purpose designs for our food processing customers.
IN LINE INFRA-RED CHEESE MELTER
Custom designed infra-red heating system with ten (10) independently controllable rows of heating with four (4) heaters per row. The system is constucted out of type 304 stainless steel for superior corrosion resistance. The system includes industrial duty caster wheels for portability. The unit is designed to fit over the customer's continuous conveying system to provide controlled heat required in the processing of quesadillas and other pre-prepared frozen food products.
PANINI GRILL MARKING OVEN
The Lanly panini grill marking oven is designed to continuously imprint perfect grill markings on panini bread. The design includes a custom engineered electrical infra-red heating system with 4 independently controlled rows of heaters. The oven was constructed of type 304 stainless steel. An access door allows ease of cleaning and maintenance for service personnel. The design includes a manual height adjustment to accomodate various thicknesses of product. A teflon coated conveyor belt minimizes product sticking.
CONTINUOUS CORN DOG BAKING OVEN
Lanly provided a continuous, two pass baking oven for the production of corn dogs. The system was designed to heat corn dogs to 162 degree F to eliminate pathogens. The system was constructed entirely from stainless steel to withstand the ambient moisture of the food processing plant. The conveyors were designed using 24″ wide, balanced mesh weave stainless steel and were driven with adjustable speed drives for product processing flexibility. Four access doors and pull out trays under each conveyor facilitated cleanout and maintenance. A transfer chute between conveyor sections prevented product breakage. Electric heaters capable of producing 700 degree F operting temperatures were incorporated. The oven was able to produce over 14,400 corn dogs per hour.
HYBRID BAKING OVEN
Lanly provided a hybrid baking oven for processing molded potato chip products and other mixed baked goods. The oven consisted of an infra-red preheat section followed by a convection baking section. A single pass, stainless steel, balanced mesh weave conveyor belt moved the product through all of the heating zones. The combination of two different heating technologies within the same line provided the user with the flexibility to run a wide range of products on one line.
LABORATORY SNACK FOOD DRYER
Lanly provided a custom designed laboratory snack food dryer to a leading supplier of extruded snack food for their use in developing a new line of products. The dryer was constructed out of stainless steel and included a balanced mesh weave stainless steel conveyor belt. Three independently controlled, gas-fired heating zones allowed for ease of custom experimentation of various drying profiles. The dryer was fitted with custom designed sets of high velocity tubes to impinge heated air directly on the product.
ADDITIONAL DATA (PDFs)