FOOD INDUSTRY OVEN APPLICATION ENGINEERING EXPERTISE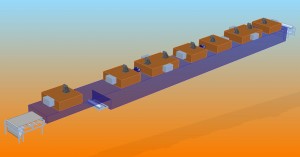 Lanly's Impingement Ovens are ideally suited for food processing applications. Precision hot air convection baking has been proven to increase productivity while consistently producing high quality products for many food processors.
Most Lanly ovens are completely assembled and tested at our facility prior to shipment. Large, complex systems are designed and built into subassemblies for final erection at your manufacturing location under the suprvision of one of our field engineers.
Lanly offers many different designs ranging from single zone snack food dryers to custom, multi-zone bake and dry systems. The Lanly Company has years of experience producing a variety of food processing impingement ovens for food products including the following:
CLIENTS INCLUDE:
Bachman Pretzels
Barrel O'Fun
ConAgra
Frito-Lay
Grefusa
Guiltless Gourmet
Handi Foods
Herr's
King Nut
Kraft
Lafeber's
Lenders
Liwayway
Los Pericos
Nabisco
Old Dutch
Pepsico
Planters Lifesavers
Pretzels Inc.
Sabritas
Shearer's Foods
Snyder of Berlin
Snyders-Lance
Tony's Pizza
Utz Snacks
Wyandot Inc.
YZ Enterprises